I have 1 server with Windows 2012R2 with Hyper-V. There are two clients, 1 2012R2 server with essential role and 1 2012R2 server with Exchange 2013.
Mail works fine, iPads and iPhones can connect and laptops and pc's can connect to, both locally and externally.
There are only 7 users.
The desktops and laptops get an error after starting Outlook.
It's in Dutch but it says the name of the certificate does not match the name of the website.
the servername is: server02.intdomain.local
the certificate is for: intranet.extdomain.nl
The error i get is on all domain pc's and laptops with windows XP, 7 and 8 and Outlook 2007, 2010 and 2013.
When ik login on the Exchange configuration page and go to servers -> certificates, there are 4 certificates installed on the server.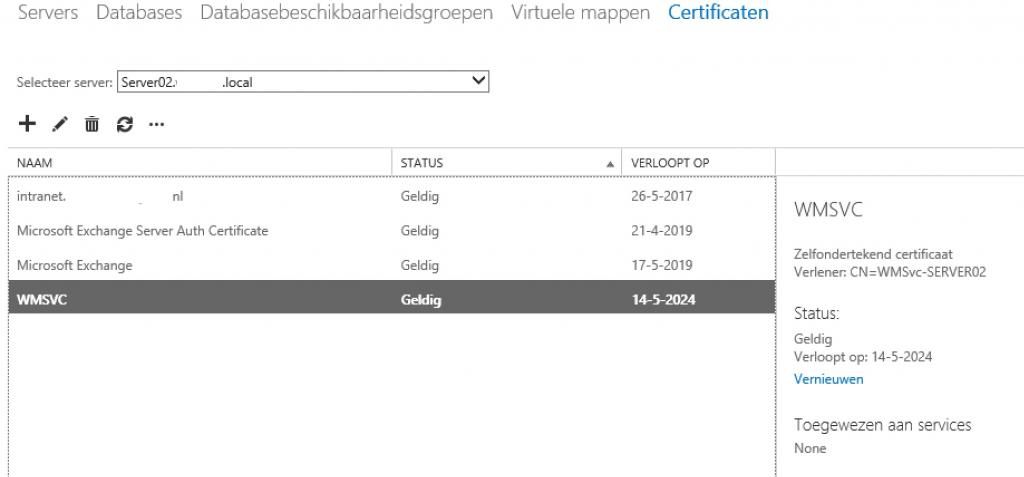 Have i assigned the 3d party certificate to to much services (why is pop and imap there, we don't use it) or to less.
Could it be that there are more certificates doing the same thing or am i looking in the wrong direction?
Who helps me solve this annoying problem gets beer!!!